When deciding on the most appropriate addiction treatment program, an individual's specific needs and circumstances, as well as what point they are at in their recovery, must be kept in mind. Some people want the structure of inpatient care while needing to have the freedom to continue working. Others may have completed an inpatient or partial hospitalization program and want to move on to "the next step" in their continuum of care. This is why our intensive outpatient program in Palm Springs, CA is the right choice for many recovering individuals. Call us at 866.985.1103 for immediate assistance.
What is an Intensive Outpatient Rehab Program?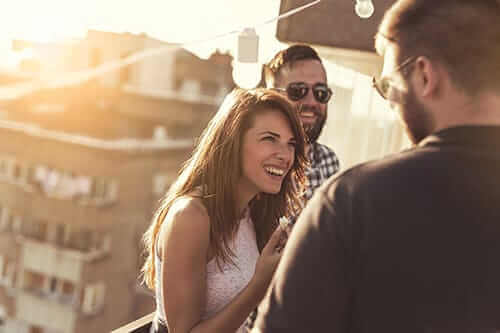 An intensive outpatient program (IOP) is usually a middle step between an inpatient rehab and a standard outpatient program as it provides a balance of structure and freedom. While in an IOP, clients either live at our sober living facility or in their home environment. Participants typically go to treatment 3-5 days a week for around 3 hours at a time; though the amount of time spent in treatment will depend on an individual's specific needs. Overall, participants can expect to spend anywhere from 9-20 hours in intensive treatment in a given week. IOPs typically last 3 to 6 weeks, but some individuals might need more time in the program before moving forward in recovery. 
Many IOPs offer weekend or evening treatment so that patients can uphold personal and professional responsibilities such as work and school. Our intensive outpatient program in Palm Springs, CA helps individuals keep their work/life balance while receiving high quality addiction treatment. This balance between treatment and the outside world enables people to gradually transition back into their day-to-day lives while still having access to ample support.
IOP vs Residential Treatment
The main differences between an IOP and residential treatment include the participants' living environment and the amount of time they spend in treatment. When in an IOP, individuals have the freedom to live at home, in the care of loved ones, or in a sober living facility. Clients in residential treatment programs live on-site and spend the majority of their time working towards recovery. Those in an IOP also spend a large portion of their week in treatment; however, they have more flexibility in their schedules. This flexibility allows them to spend time with family and friends, go to work, and attend school.
A person might transition to our IOP in Palm Springs following a residential or inpatient treatment program. This step-down approach is effective for many people and allows clients to gradually move through treatment at their own pace. Additionally, a person who has a less severe addiction might choose an IOP over a residential treatment program. 
Benefits of Our IOP in Palm Springs, CA
The effectiveness of IOPs is fully backed by scientific evidence and undeniable results. Research has shown that intensive outpatient programs help individuals move past their addiction and any co-occurring mental health disorders they might have to find lasting recovery. Additional benefits of participating in an intensive outpatient program include:
Support.

Not only do qualified team members offer support, but group therapy allows peer relationships to form during treatment. These open a door for continued support long after an individual has left the program. 

Evidence-based treatment modalities.

Patients have access to a range of therapeutic services that are evidence-based and have been research-tested. 

Privacy.

This program type can give patients more privacy as they are able to upkeep a presence both professionally and socially. 

Customized treatment.

IOPs are tailored to meet the unique circumstances and needs of each client.

Cost-effective.

Intensive outpatient programs are often less expensive than inpatient programs as they exclude living costs. 

Balance.

IOPs provide more flexibility than a residential program, but more structure than a standard outpatient program. 
How Do I Know I Need an IOP in Palm Springs
IOPs for addiction provide participants with a structured and supportive environment as well as a flexible schedule — making them a good choice for many people. Some individuals transition to an IOP following a higher level of care, while others find that IOPs best suit them from the start. If you are unsure if an intensive outpatient rehab program is right for you, here are some reasons that you might need this program type:
You suffer from a less severe addiction and are not in need of 24/7 care and supervision.

You want to spend more time with family and friends. 

You are unable to participate in residential or inpatient care due to school, work, and/or family responsibilities.

You have completed a residential or partial hospitalization program. 

You are not ready for a standard outpatient program (OP). 
Additionally, an ideal IOP candidate: 
Has a strong support system at home or will be living in a sober living environment

Has developed healthy coping mechanisms and has a strong foothold in recovery

Is highly motivated in beginning or finishing treatment

Has already completed a more intensive treatment program
Therapy in Intensive Outpatient Programming
An integral part of our Palm Springs, CA intensive outpatient program is our multiple treatment modalities. Therapy allows clients to identify the underlying causes of their condition and establish healthy coping mechanisms while facilitating peer support. The following types of therapy and treatment methods are commonly used in IOPs. 
Individual therapy.

Individual therapy focuses on a person's past, current circumstances, and future goals. This therapy type makes individuals feel heard and helps them to work through their issues in a constructive manner. 

Group therapy.

In group therapy, individuals are given the opportunity to empower and strengthen one another. This reduces stigma and encourages peer bonding. 

Family therapy.

Addiction is a family disease. Family therapy allows both the client and their loved ones to communicate openly, so they can heal and move forward. 

Medication-assisted treatment.

Medications can aid in controlling cravings and preventing relapse. 

Holistic treatment.

Holistic treatment heals a person's mind, body, and soul through practices such as yoga and meditation. 
Join Our IOP in Palm Springs, CA Today
The time to free yourself from your addiction is now. Our compassionate, highly trained, and experienced staff members are here to help you. Don't wait any longer; your journey to recovery can begin right now. To learn more about our Palm Springs, CA IOP program, give us a call or use our contact form today.