When deciding what type of treatment is most appropriate for your recovery, some people find the dichotomy between residential and outpatient treatment off-putting. Perhaps you require the supervision of inpatient, but you need to have the freedom to maintain a job. Perhaps you have completed an inpatient or partial hospitalization program and want to move on to "the next step." If you relate to these quandaries, you should consider Phoenix Rising's intensive outpatient program.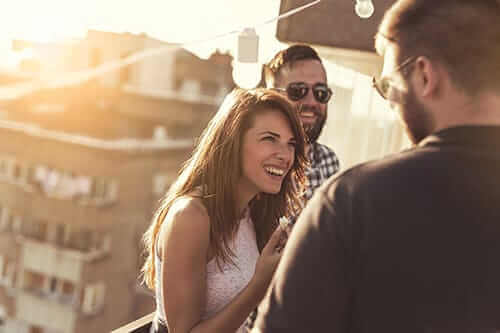 What Is an Intensive Outpatient Program?
An intensive outpatient program (or IOP) is a sort of middle ground between inpatient and outpatient. There are two main types of IOP. The first is a day program. In a day program, you would meet 3 to 5 times a week, for anywhere between 2 and 5 hours, and then go home. A day program is just an outpatient program with more time spent here.
What we recommend for anyone interested in an intensive outpatient program, is to use our sober living facilities. With sober living facilities, an IOP rehab begins to resemble a commuter college situation. You have a "dorm" that is a manageable distance from your "class" (therapy sessions). After a session, you go back to your sober living quarters.
Clients who opt for this will usually participate less in our other activities. We want you to be able to spend your time looking for or maintaining a job. An intensive outpatient program is designed as a stepping stone. towards independence. While we encourage you to take all the time you need, our IOP rehab typically takes 3 to 6 weeks.
Should I Consider an Intensive Outpatient Program?
Intensive Outpatient Programs (IOP) treat the following:
Addiction
Depression
Eating disorders
An IOP rehab treats those who suffer from substance abuse but don't require the intensity of a residential treatment program. This is because those who don't suffer from a severe case of addiction don't require as much attention or supervision as those who do. Although patients in IOP rehab spend a good chunk of time at a treatment center, they spend the majority of their time at home. This is much like outpatient treatment, which allows patients to be treated with minimal disruption to their daily lives.
Not only that, but IOP also helps patients who aren't ready for milder treatment and the world outside of rehab transition into a recovery option such as outpatient care. This method of treatment is more of a stepping stone for those who don't feel they could make the jump. The purpose of this method of care is to surround those participating in a support system that is consistent. This provides them with coping methods and helps prevent relapse.
Usually, patients will visit an IOP rehab facility anywhere between three and five times per week.  The difference will vary depending on one's individualized needs. Some may need more time, whereas others may only need the bare minimum. Most treatment programs require anywhere between nine to 20 hours per week. For those confused about the difference between IOP and outpatient treatment, the 20-hour threshold would be one obvious distinction.
There is no cookie-cutter method of treatment, which is why every treatment facility is different. There are different kinds of care that work just fine or better than others. Typically, 12-step programs including individual and group therapy are the standard for IOP rehab. Regardless, IOP very loosely looks the same across many treatment centers.
Everyone has a unique path to recovery. And, while Phoenix Rising is the best intensive outpatient program Palm Springs CA has to offer, you need to decide what is best for you. Here are some of the reasons our clients select an IOP rehab.
Recently Completed Inpatient or Partial Hospitalization: This reason is one of the most common explanations for why our clients choose an IOP. Inpatient/Residential programs offer a very high level of supervision and care. While a client may be ready to move on from residential treatment, they may not be ready for independence.
Can't Decide Between Inpatient or Outpatient: For some, both inpatient and outpatient care are too extreme. An intensive outpatient program finds a healthy middle ground where we can help hold you accountable while you maintain more agency.
Cost: IOPs are less expensive than both residential programs and partial hospitalization programs. If you need an extra level of supervision, but can't afford full-blown residential treatment, then an IOP rehab is for you.
Should I Choose an Intensive Outpatient Program?
When it comes to knowing whether you should choose an intensive outpatient program, you must examine your needs as they relate to your treatment. IOPs serve multiple purposes, the most obvious being that it's a step between inpatient and outpatient treatment.
Different treatment options offer different amounts of structure. Inpatient residential care has the most intense amount of structure, while IOP is more structured, but to a lesser extent. In an IOP, patients attend meetings and therapy. They also have a case manager with whom they regularly check in. Unlike inpatient treatment, they won't stay overnight. They attend treatment in the evening and return home afterward.
For those who cannot stay overnight at a treatment center just yet, IOP can be a good starting point. It's also a good option for those who aren't suffering from a more severe form of addiction. This isn't to say that only one type of person needs IOP, because there are many people who come from different places who may require IOP.
How Do I Know an IOP is Right for Me?
There are a few ways to know for sure whether IOP is right for you:
You've completed residential or partial hospitalization
You have a serious addiction that is not concerningly severe
An encouraging home environment is available to you
Serious treatment is needed but you can't afford to leave your day-to-day life behind
Figuring out your ideal rehab situation has the potential to be a pain-staking process. There are a plethora of treatment options available which can be immensely intimidating. What's scarier than that is being surrounded by uncertainty concerning whether or not you've chosen the right treatment for you.
When it comes to these concerns, however, Phoenix Rising has you covered. We recognize that there is no one person exactly like the other, and because of this, we scale our treatment to a person's needs. This is what we refer to as 'Individualized Treatment'. So who fits best in an intensive outpatient program?
IOPs are best for individuals who have stable home environments. Support from those who love us is the key to succeeding in treatment. Those who participate in an IOP spend the vast majority of their time at home.
Other Treatment Options
There are more treatment options you could consider besides IOP. Some of these include the following:
Inpatient residential treatment
Outpatient treatment
Medically assisted treatment (MAT)
Partial hospitalization
12-Step meetings
Therapy and Intensive Outpatient Treatment
A large chunk of intensive outpatient treatment has to do with therapy, and because of this, it's good to be aware of what kinds of therapy we offer. Therapy does an excellent job of combating substance use disorder. It provides patients with coping mechanisms they can use outside the walls of treatment. To better understand therapy's impact on individuals, you should know which options are available and work best for certain individuals.
Individual Therapy
Those who are treated in IOPs most often utilize individual therapy (even though this is not the primary form of treatment). Individual therapy tends to focus more on a person's past, their perception of the world around them, and any current circumstances they are working through. This tends to translate better in individual therapy because some people don't feel comfortable being vulnerable in a larger group setting.
Those participating in IOPs go to individual therapy once a week. We highly encourage that you attend meetings multiple times a week to maximize your chances of recovering to your full potential.
When it comes to individual therapy, those who participate are typically encouraged following a therapy session. They also feel like they've been heard and understood. The confidence these individuals gain as a result is astronomical. Patients also have more personal access to a therapist in an individual setting rather than a group setting. This is important because it allows individuals to learn and apply skills that pertain directly to their lives.
Group therapy consitherapy sessions performed in a group setting, in which individuals are able to empower and strengthen each other. When individuals are united toward a common goal, they are more likely to achieve that goal as opposed to pursuing a goal by themselves. In these meetings, individuals participate in a group conversation facilitated by a trained professional. The method is more so Socratic than anything else. This means that the therapist leading the session will ask probing questions to get to the heart of each patient's issues.
Overcome Addiction with Phoenix Rising
Phoenix Rising doesn't just have the best intensive outpatient program Palm Springs CA has to offer. We also provide a plethora of other services. From detox to aftercare, we want to make sure you are supported through each step of your recovery. Here are some of the other treatment options we provide.
To learn more about our intensive outpatient program, contact us today. Our compassionate, highly trained, and experienced staff is here to help you. Don't wait to get help! Your journey to recovery can begin today!